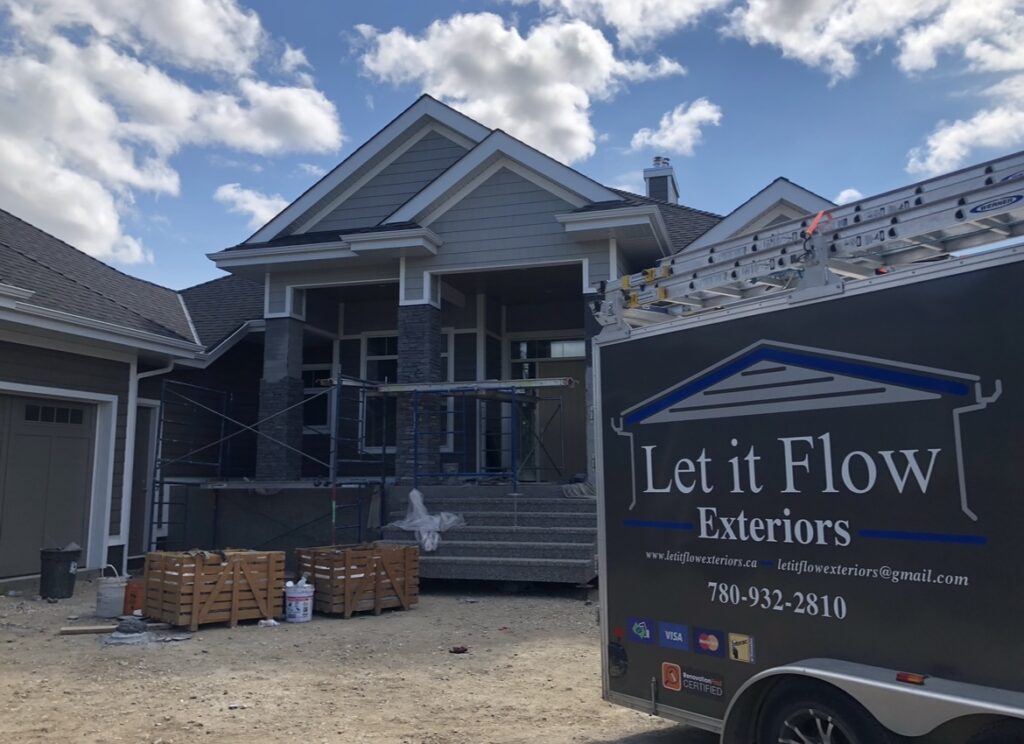 When it comes to renovating or maintaining the exterior of your home or business, finding the right contractor is essential. You need someone who is reliable, experienced, and able to provide top-notch workmanship. In this blog post, we'll discuss the steps to take to choose an exterior contractor for your gutter and siding projects in in Edmonton and Parkland County.
Step 1: Research Exterior Contractors
The first step to finding an exterior contractor is to research and compile a list of potential contractors. Start by asking friends and family for recommendations on contractors they have used in the past. This will allow you to exclude any companies that provided a bad experience or product. Alternatively, you can search for contractors online. Pay attention to Google Reviews, and other sites like the Better Business Bureau as previous customers leave reviews based on their experience with the company.
Step 2: Check Licenses and Insurance
Before you start contacting potential contractors, ensure that they are licensed and insured. You can check with the local regulatory agency in Edmonton (City Website) or Parkland County (County Website) to confirm that the contractor is licensed to operate in your area. Alternatively, you can ask the contractor for proof of license before they even come out for a quote, any reputable company should have no issue providing you with a coop of their license. Insurance is also essential, as it protects you and the contractor in case of an accident or damage during the project. Ensure that the contractor not only has liability insurance, but workers compensation (WCB) as well. Again, any reputable company should be able to provide you with copies of their policy no problem.
Step 3: Ask for References
Once you have a list of potential contractors, it's essential to ask for references. A reputable contractor will be happy to provide you with references from previous clients. Although you might not be given the contact information of all customers (client confidentiality), you should be able to get an address at the very least to be able to drive by the property and take a look at their work. For smaller project such as gutter installation this isn't to essential of a step, but for a siding replacement or full exterior you should definitely check references.
Step 4: Compare Quotes
When you have a list of potential contractors with references, it's time to start getting quotes. Unfortunately many contractors don't answer their phone, or even respond to inquiries for that matter. But don't let that discourage you. Call all of the exterior contractors on your list and ask for a quote. Make sure to get at least 3 quotes, but for larger projects aim for 4-5. Request that each quote is broken down by line item, with an accurate and detailed description of what is included in their price. Once you get all of the quotes be sure to compare apples to apples, this is why you need to get multiple quotes. While price is essential, it's not the only factor to consider. Look at the materials being used, the experience and history of the company, the warrantie they offer, and any other terms and conditions that might apply.
Step 5: Look for Experience
Experience is crucial when it comes to hiring an exterior contractor. Be sure to ask about the contractor's experience with gutter and siding installation in Edmonton and Parkland County. An experienced contractor will know the ins and outs of the local climate and building codes and will be able to provide you with quality work. But don't automatically associated company size or age with experience. Typically larger companies subcontract their work or pay their employees by the job, meaning the longer it takes the less they get paid, so the project ends up being rushed for the sake of profit. Small, owner-operator companies that have been around for a long time (20+ years) aren't necessarily the best choice either as many have done things the same way since day one, and refuse to change their ways for newer, more efficient methods.
Step 6: Check for Warranties
Warranties are also essential when it comes to choosing an exterior contractor. Be sure to ask about the contractor's warranties on both materials and workmanship. A reputable contractor will stand behind their work and offer a warranty to protect you in case of defects or issues with the project. At Let It Flow Exteriors we proudly offer a 5-year workmanship guarantee on all of our installations.
Step 7: Check for Certifications
Certifications are also essential when it comes to choosing an exterior contractor. Look for contractors who have certifications from manufacturers such as James Hardie or Alu-Rex. These certifications indicate that the contractor has undergone specialized training and can provide quality workmanship on the products they are installing.
Step 8: Choose an Exterior Contractor
Finally, choose an exterior contractor for your gutter or siding project. Once you have collected 3 or more quotes, compared them, and gathered all necessary details you are now ready to make an informed decision on who to use for your exterior project.
Conclusion
In conclusion, finding the right exterior contractor for your home improvement project is crucial to ensuring the quality and longevity of your home's exterior. By considering factors such as experience, licensing and insurance, warranties and guarantees, multiple quotes, local contractors, references, and communication skills, you can make an informed decision and hire a contractor who will meet your needs and exceed your expectations. Whether you're looking to install new gutters or upgrade your siding, taking the time to choose the right contractor is well worth the investment. With these tips in mind, you can embark on your home improvement project with confidence and peace of mind. Ready to start the process? Contact Let It Flow Exteriors at 780-932-2810, [email protected], or click here and start the process to today.