Continuous Aluminum Eavestoughing
We offer both 5″ and 6″ K-profile continuous gutter.
All of our gutters is made out of aluminum. This is our material of choice as it is rust-resistant, available in a variety of colors to perfectly match your home, and lasts approximately 20 years longer than steel.  With our gutters we only use hidden aluminum hangers, and a minimum of 1.5″ roofing screws for all installations.
Do I Need 5″ or 6″ Eavestrough?
5″ gutter is found on most residential houses and is by far the most popular size of eavestrough available. It provides optimal drainage for the average asphalt roof and also looks great. If you have an especially large, steep, or a metal roof you may want to consider 6″ eavestrough instead. It provides a wider and deeper trough to catch and carry water away. It is typically found on commercial buildings but can look good on a home too!
Leaf Guard System
Double-Pro continuous hanger system by Alu-Rex is our leaf guard of choice. With a life-time guarantee against clogs, it is designed to stop leaves, pine needles and anything else mother nature throws at it. It also boosts a life-time warranty on the leaf-guard itself, providing the most extensive warranty in the industry. 
We also offer the T-Rex continuous leaf guard hanger system from Alu-Rex for when pine needles are not an concern. 
To find out more about Alu-Rex's products, visit their website.
Custom Copper Eavestroughing
We are proud to be one of the only companies in Alberta that offers custom copper eavestroughing options. Made out of steel, our copper eavestroughing gives you all of the looks of true copper, but without the cost and oxidation, meaning your gutters stay copper year after year. Available in 5″ & 6″ K-style eavestrough and in four different color patterns.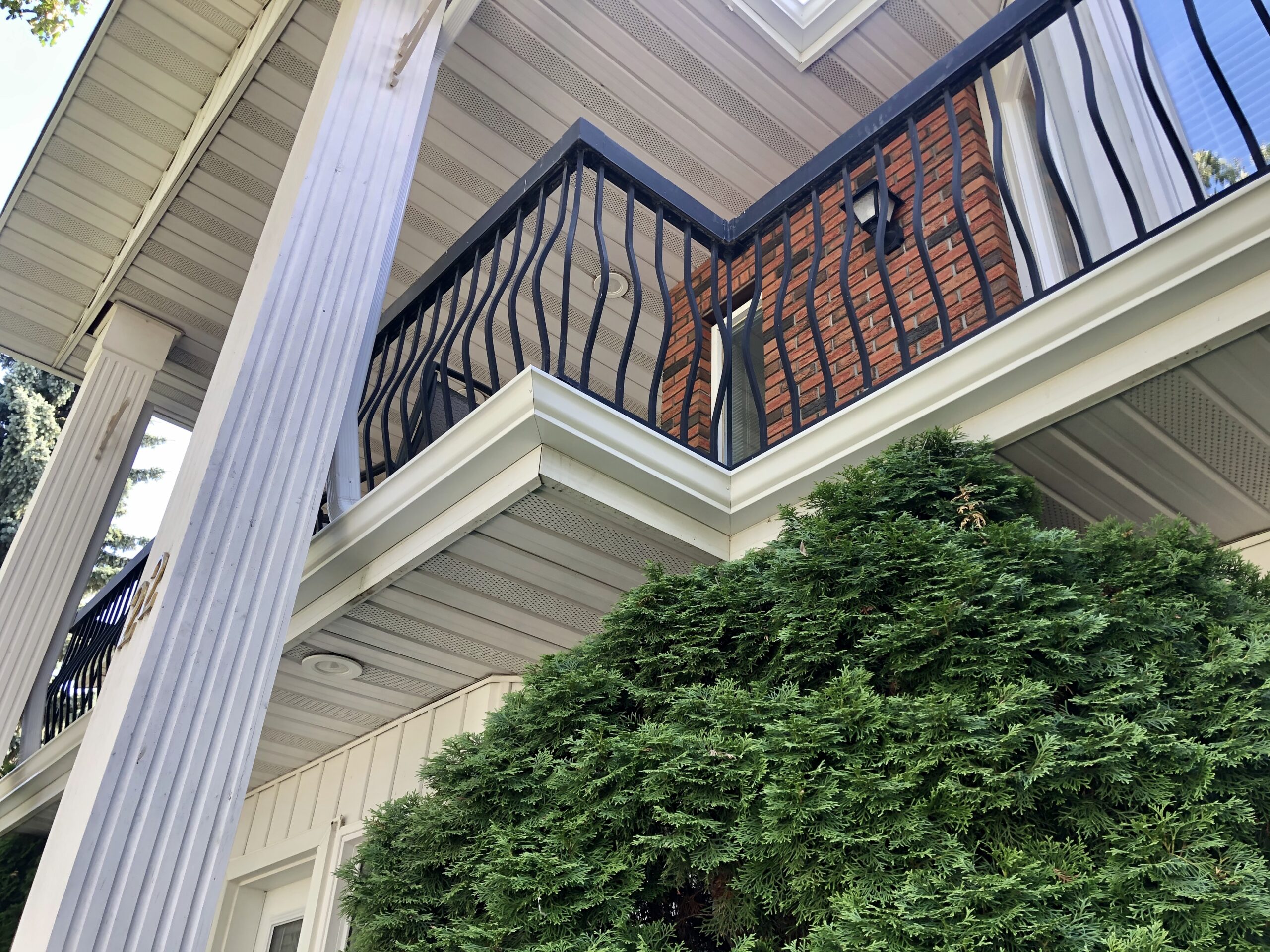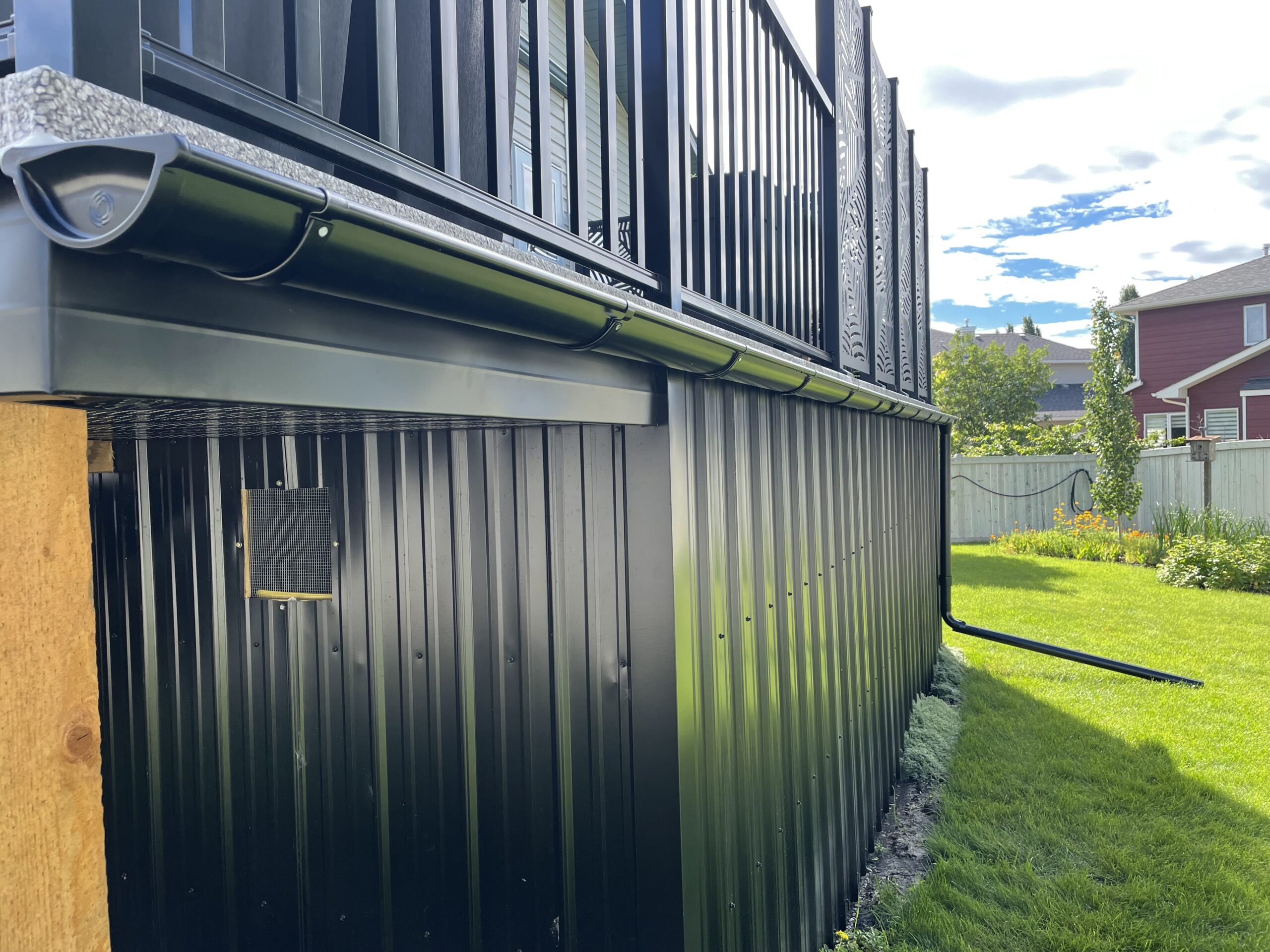 Lindab European Gutters are a half-round gutter system designed and manufactured in Sweden. Available in 5″ and 6″ and in 9 colours to match your needs. With a wide range of product options such as multiple types of hangers and downspouts accessories, Lindab Gutters can adapt to any need.
Zinc coated and made of galvanized steel, Lindab is highly durable and long-lasting option compared to traditional gutter systems.
Lindab gutters are installed with a series of tight-fitting concealed gasket endcaps and hangers. This eliminates the need for any caulking, drastically lowering the potential for leaks compared to systems using caulking.
Soffit
Soffits are the material that spans from the edge of the house siding (wall) to the edge of your fascia on your house exterior. Soffits serve multiple purposes. Soffits are mainly used for attic ventilation but can also add to curb appeal. Available in multiple color and product type to meet your project needs.
Fascia
Fascia is the section of  board that runs underneath your roofline and provides a place for your gutter to be installed on. A solid fascia board is important therefore it is recommended that all fascia board is covered with cladding, typically referred to simply as fascia. This helps prevent moisture from rotting the board, and allows for it to maintain its color without needing to be painted every couple of years. The most common fascia cladding is aluminum, but PVC and Hardie Board can also be used depending on your needs.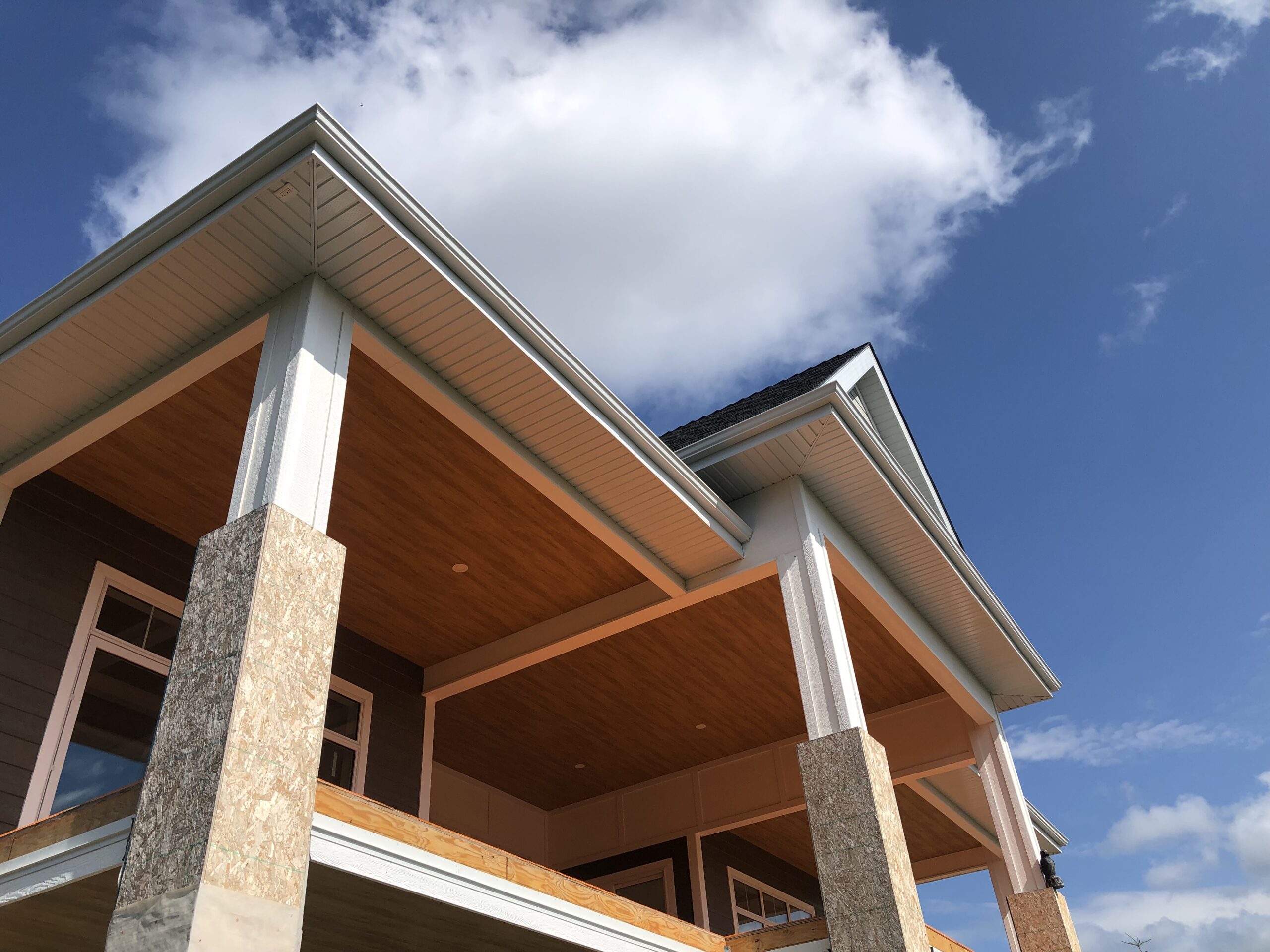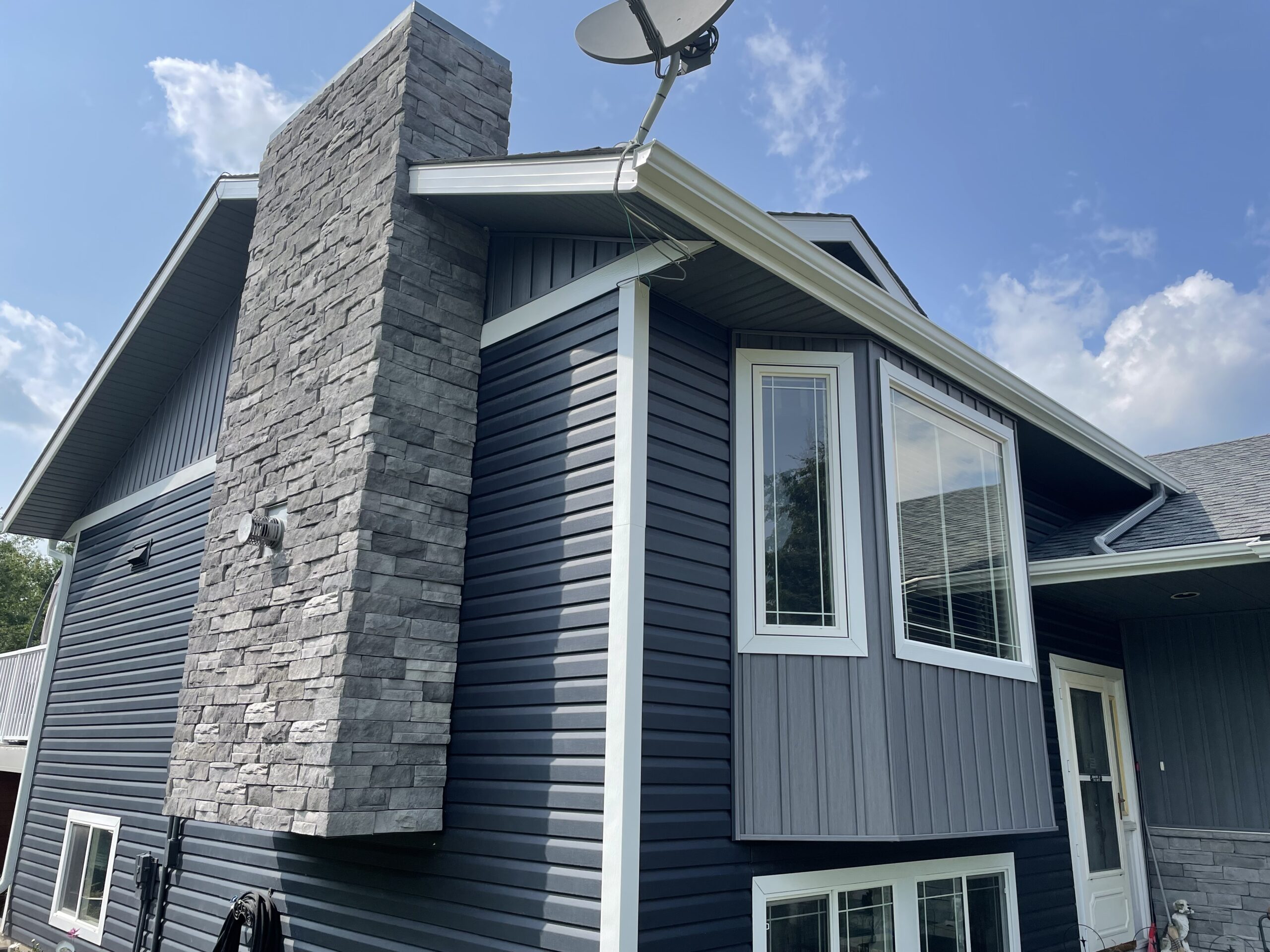 We offer multiple siding options, including vinyl, James Hardie Board, and metal siding. We can mix or match various materials in order to achieve any look you may desire.
Vinyl Siding
Available in over 30 colours, multiple profile widths, shakes, and board and batten, vinyl siding is the cheapest and most common siding option available.
James Hardie
With over 15 colours available in multiple board widths, board and batten, panels, and even shakes. James Hardie Board is an extremely versatile product. Moisture and rot-resistant, non-combustible, and resistant to pests. Hardie Board is worth the price due to its durability and lifespan.
Metal Siding
We offer multiple types of metal siding, from regular corrugated metal siding, to more designer LUX Architectural products. There are various profiles and designs to use as an accent or as a whole siding system.
Faux Stone offers the curb appeal of real stone, but at a fraction of the cost. We currently offer two types of faux stone, Boral Versetta Stone, and Clipstone.
Boral Verestta Stone®
A cement based stone board with a unique, mortarless design. It is installed with screws or nails, is quick and easier to install then traditional real stone, all while looking just like it. Available in three patterns and multiple colors to perfectly fit your needs.
ClipStone
A mortarless Stone Veneer, that comes in pieces opposed to boards, for a more realistic look than other veneer options. Cheaper than real stone but more expensive than other stone alternatives, Clipstone is available in two profiles and ten colours.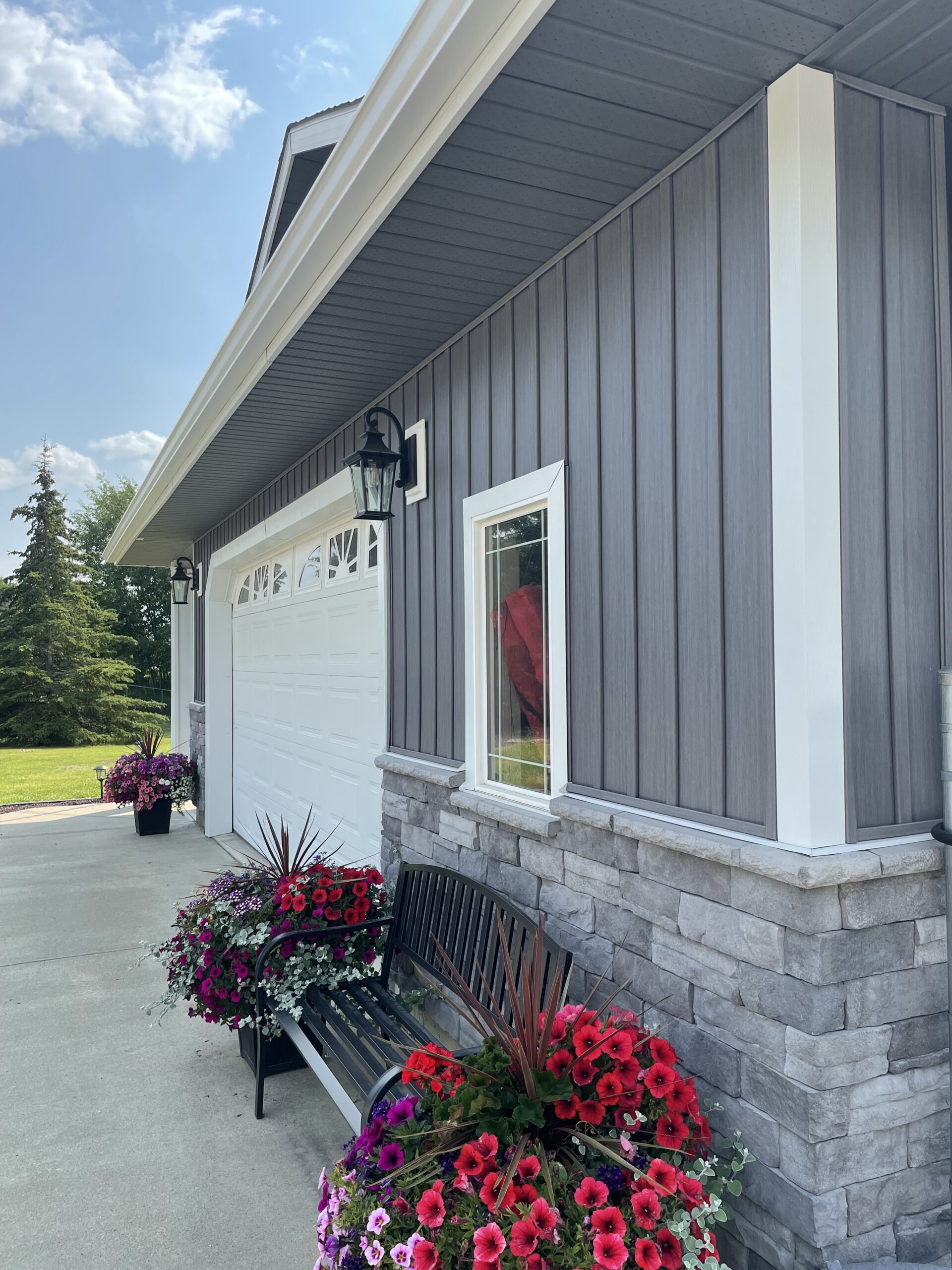 Edmonton
St. Albert
Spruce Grove
Stony Plain
Parkland County
Lac Ste Anne County
Wabamun